Witchy Workshop
Witchy Workshop 1.0 has been released!
---
About a year and a half ago, one of our developers made this Tweet:
If anyone wants to donate me millions of dollars Ill go ahead and make my latest game idea "Witchy Workshop" an incredible machine type game
Today, Witchy Workshop 1.0 has been released! (We didn't get the millions of dollars, if you're wondering.) In this game, you use spells, machines, alchemical devices, and an assortment of spooky parts to solve the Red Bean Witch's magical physics puzzles as her dog, Choco.

If you're familiar with games like The Incredible Machine or Contraption Maker, you probably have a general idea as to how these things work. If not, don't worry: we've tried really hard to make the game enjoyable and accessible to those unfamiliar with the genre. Just bring yourself, we'll bring the skulls and crossbows.
We've also added some accessibility settings, such as turning off fancy fonts and enabling part outlines, that will be expanded in the future. Both of our developers have disabilities, and we would like to make Witchy Workshop as accessible as possible.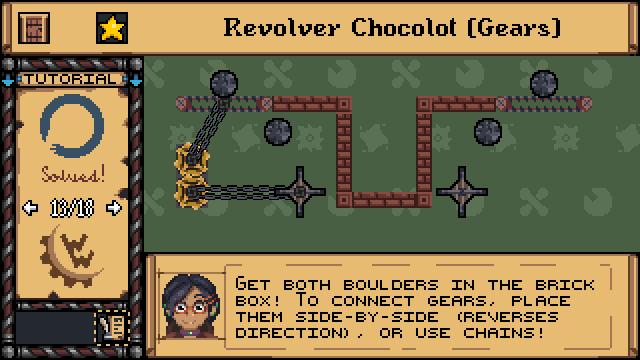 There are 18 tutorial puzzles that walk you through enchanting grimoires, chaining gears together, and setting off fireworks and bombs in what would normally be a violation of municipal code. Since you're a dog who lives in the woods, however, you can avoid any and all responsibility. This is a core feature of Witchy Workshop.

The game is pay-what-you-want, since it's a demo. If you want to pay $0, that's fine! We initially expected this to be a fairly small demo, but there's 30 puzzles (excluding tutorials) included in this release. It's trickier to make a "vertical slice" – a fully-featured, but short, section of gameplay – for a puzzle game than, say, an RPG. To make a game like Witchy Workshop any fun, you have to have a lot of complete systems that work together in harmony.
I guess we could have included fewer puzzles, but then it's harder to show the various combinations of those systems. Also, if you think about it, this way you're more likely to say something to all your cool friends or random strangers, like "You should try Witchy Workshop, the video game for your personal computer, because it's like three hours of great puzzles! These developers are dumb as rocks!" Will that happen? Might you even turn random strangers into cool friends by saying this? It's up to you to find out.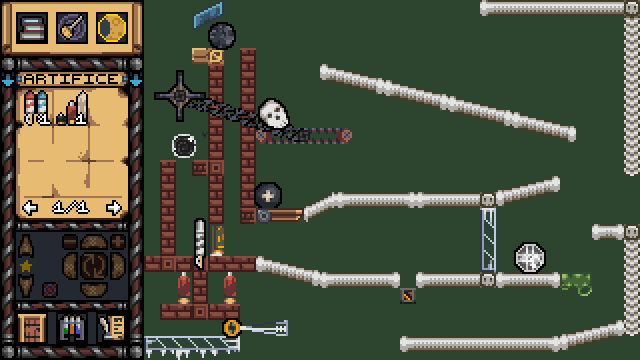 We aim to move Witchy Workshop out of "demo" status by adding more puzzles, more parts, more magic, interface improvements, Workshop mode (design puzzles and share them with your new cool friends), and Versus mode (play against them in local co-op). Maintaining flexibility about how we continue to develop Witchy Workshop and continuing work on our other game is really important to us, so we don't want to make too many promises.

Your feedback is vital in determining our future development path, and so a player survey is just a click away in the game. Our Itch page has more info on how to get in contact with us, too. Here are some features we're looking into for future updates.
Animals: Living objects with behaviors
Electricity: Power things, logic gates
Ropes: Likely also associated systems, like pulleys
Additional magic: Shrink, grow, gravity
Native resolution bump, so we get more space on the screen
An "all parts" category
Gamepad support
Linux support
Fully remappable controls
Separate user profiles
iOS/Android/Switch support?
We hope you enjoy Witchy Workshop!
- @kemonologic & @cicadian
For more development & release updates and videos, check out our Twitter!
Files
Witchy Workshop (Windows)
24 MB
Version 1.0.0
Nov 24, 2018